At SCA, we strive to improve continuously in order to exceed our clients' expectations. In our laboratories, there is no margin for errors. Through our robust commitment to GMP regulations at stem cells purification and separation facility, we ensure we remain focused on patients' safety. On the other hand, at JBCL medical laboratory, quality and accuracy of the testing and reporting system is our utmost priority, here ISO 15189 guided us to the international quality. This commitment to quality is driving and motivating us to obtain the "quality management system" trilogy: European ISO 15189 medical laboratory accreditation, the ISO9001 quality management certification, in addition to the Good Manufacturing Practice (GMP) certification. We are now at SCA providing the minimum requirements for the three quality systems; accreditation for each one is in progress.
The Importance of Laboratory Quality:
Laboratory quality can be defined as accuracy, reliability and timeliness of reported test results. In order to achieve the highest level of accuracy and reliability, it is essential to perform all measurement processes and procedures in the laboratory in the best possible way. When making measurements, there is always some level of inaccuracy. The challenge is to reduce the level of inaccuracy as much as possible. An accuracy level of 99% may at first glance appear acceptable, but the resulting 1% error can become quite large in a system where many events occur, such as laboratory testing. The laboratory is a complex system, involving many steps of activity and many people. The complexity of the laboratory system requires that many processes and procedures be performed properly. Laboratories produce test results that are widely used in clinical and public health settings, and health outcomes depend on the accuracy of the testing and reporting.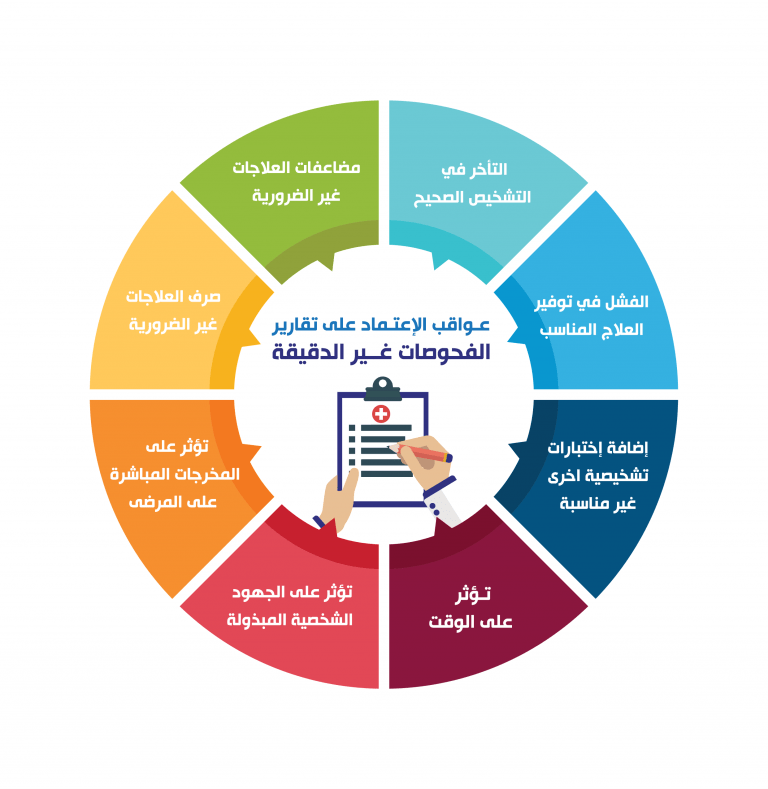 SCA Quality Management System Model:
A Quality Management System (QMS) can be defined as "coordinated activities to direct and control an organization with regard to quality". At SCA, all of the laboratory procedures and processes are organized into an understandable and workable structure. SCA laboratory is committed to a "12 Quality System Essentials" model of QMS. These 12-quality system essentials are a set of coordinated activities organize SCA laboratories procedures and processes and serve as building blocks for our QMS.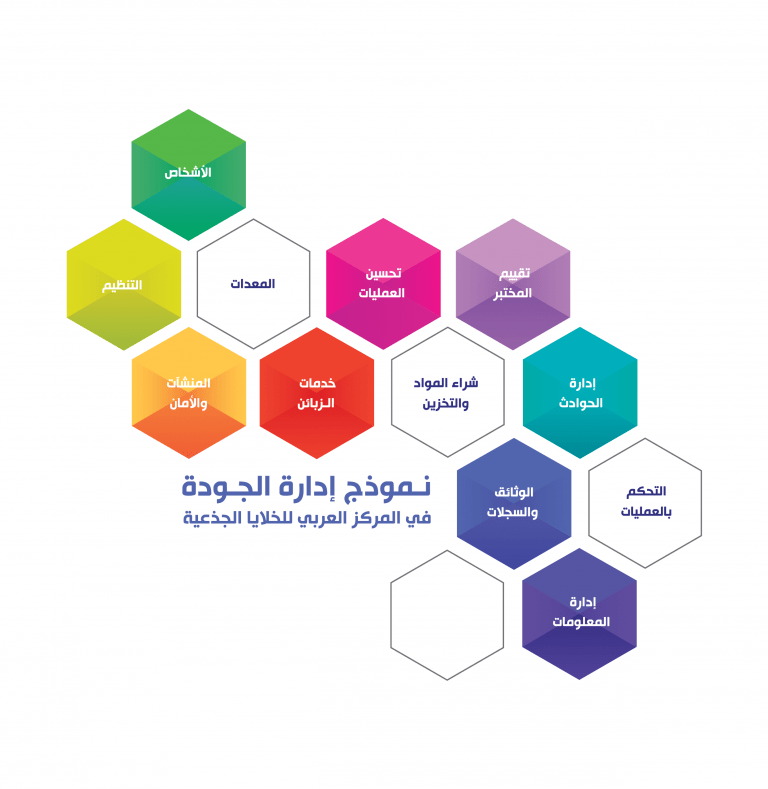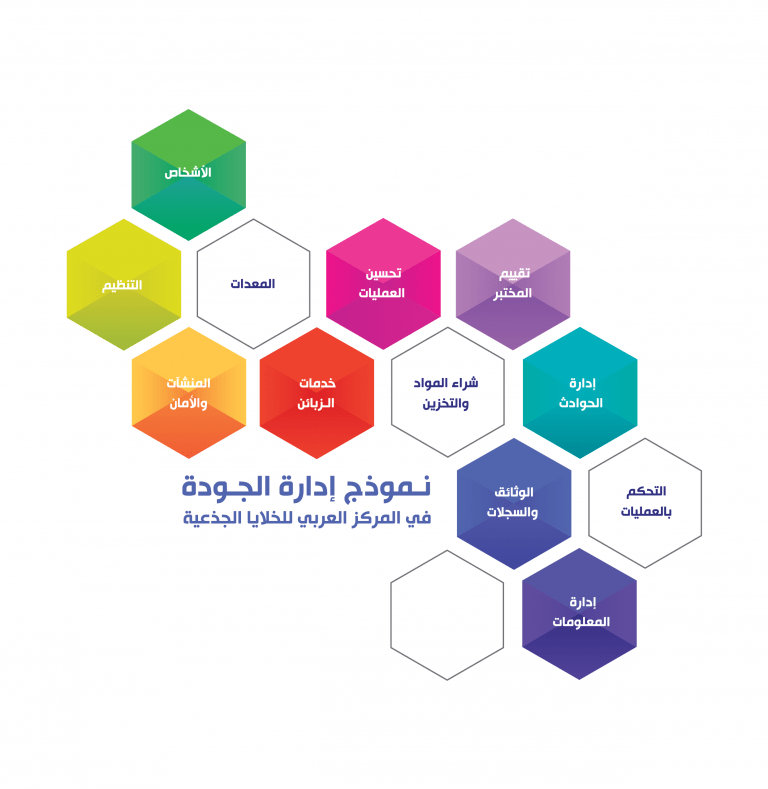 ISO 15189 (Medical Laboratory):
The International Standard of clinical laboratories, entitled as ISO 15189: 2012 "Medical laboratories: requirements for quality and competence", enables laboratory professionals to use a quality system encompassing all the steps and processes within the simplified three-category(pre-examination, examination and post-examination
categories) framework. According to this International Standard, laboratory services process includes "arrangements of requisition, patient preparation, collection of samples, transportation, storage, processing and examination of clinical samples, together with subsequent validation, interpretation, reporting and advice, in addition to the consideration of safety and ethics in medical laboratory work".
The path of framework in ISO 15189 begins with the "patient" and ends in "reporting and results interpretation".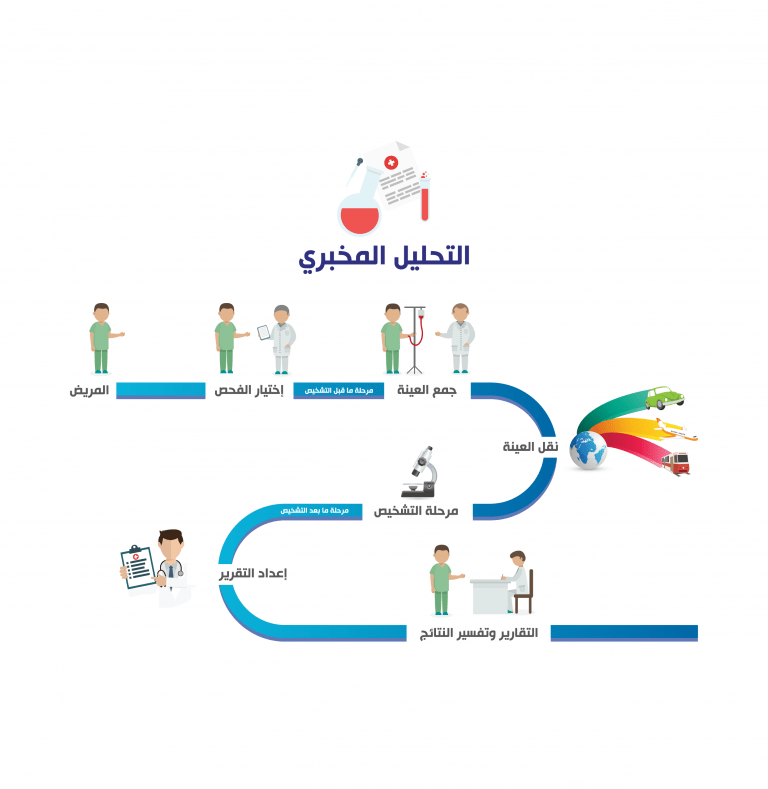 ISO 9001 (Quality Management):
ISO 9001 is the international standard that specifies requirements for a quality management system (QMS). Organizations use the standard to demonstrate the ability to consistently provide products and services that meet client and regulatory requirements.
This standard is based on the "plan-do-check-act" methodology of a number of quality management principles to documenting and reviewing the structure, responsibilities, and procedures required to achieve effective quality management in an organization. This including:
– A strong client focus.
– The motivation and implication of top management.
– The process approach and continual improvement.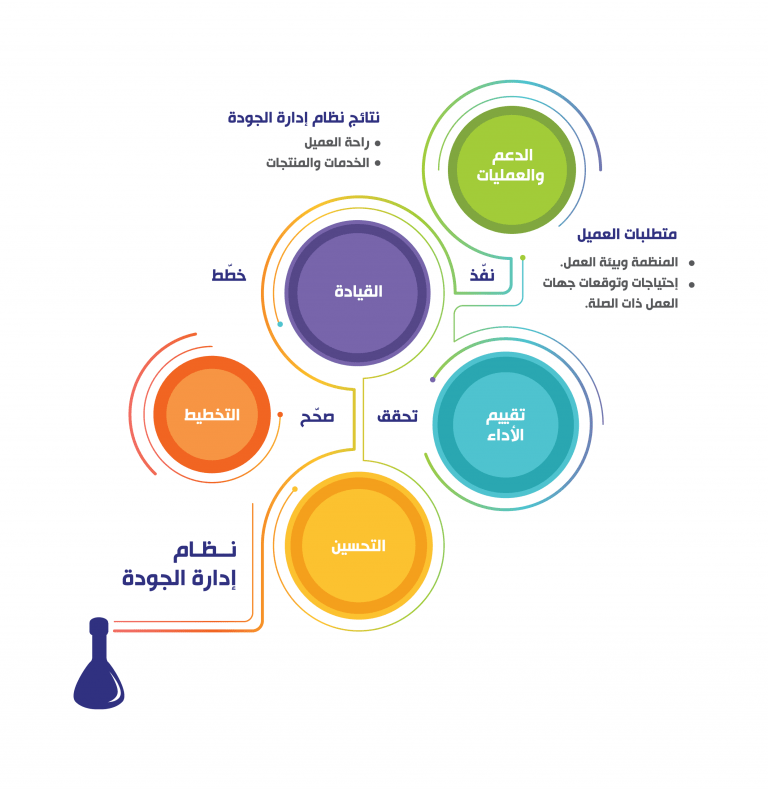 Good Manufacturing Practice (GMP):
A GMP is a system with a set of measures under QMS for ensuring that products are consistently produced and controlled according to high quality standards and guidelines that recommended by production authorizations and licensing agencies. It is designed to minimize the risks involved in any pharmaceutical, therapeutic or food productions to ensure quality, safety and efficacy (QSE) of the product. GMP guidelines cover all aspects of production requirements from the starting materials, premises and equipment to the training and personal hygiene of staff. These guidelines are accompanies with a detailed documentation system with written Standard Operating Protocols (SOPs) to ensure that the correct procedure at each step every time of the production process is consistently followed.