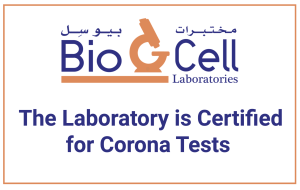 We are specialized in high quality medical tests and accurate scientific diagnosis for various diseases.


Our laboratories boast an elite group of experienced and highly qualified specialists in drawing blood and communicating with patients.


Our laboratories are equipped with the latest, fastest, and most accurate laboratory medical devices.
The tests are conducted in our laboratories, and we provide most of the results within hours through various means of communication, including the BioCellLab App, email, WhatsApp and others.


We provide a free home blood withdrawal service for all age groups with high efficiency.


We are distinguished by our exceptional location, as it is easy to reach us from all regions.


Each patient receives a personal card, for easy saving and retrieval of information.